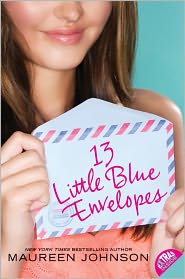 After I read another post-apocalyptic novel, I got started on a nice little teenage girl story. This was a much shorter story (I started it last night and finished this morning), about Ginny (Virginia) Blackstone, who was left a series of letters by her deceased Aunt Peg, the Runaway Aunt. Aunt Peg had left her home and job in New York without telling anyone, and traveled around Europe before Ginny's family received a call from her doctor, informing them of Peg's passing.
The first letter contained money and instructions to go to New York and then London to perform a task. There were also rules for the trips which included no contact with anyone in the USA during the trips, no guidebooks, as well as no electronic crutches like cellphones or cameras. The rest of the letters followed the same pattern - instructions on where to go, who to meet, and a task to complete before opening the next letter.
I loved the way the writer described the places in this book. Harrods sold everything:
"Departments that made no sense were strung together in a series of large and small rooms. Every offshoot led to something weirder, and nothing appeared to be an exit. There was always just
more
. She went from a room displaying colourful kitchen appliances to a room entirely filled with pianos. From there, she was swept up by the crowd into a room of exotic pet supplies. Then a room devoted solely to women's accessories, but only ones coloured light blue - purses, silk scarves, wallets, shoes."
The London tube map:
It looked like a nursery school poster designed to attract the eyes of toddlers. It was stark white, with bright primary-coloured lines snaking around it. The stops had solid-sounding names, like Old Street and London Bridge. Royal sounding: Earl's Court, Queensway, Knightsbridge. Entertaining: Elephant & Castle, Oxford Circus, Marylebone. And there were names she recognised: Victoria Station, Paddington (where the bear lived), Waterloo."
The train to Paris:
"There was no way she was going to be able to sleep on sole jiggling surfboard sticking out of a wall. Especially since the German woman kept sliding open the window, and Mr. Generic Europe kept closing it halfway. Then one of the backpackers said something in Spanish and then said, "Do you mind?" in English and pointed at the window. When she closed it all the way, no one put up a fuss. The German woman opened it again anyway, and the cycle went on throughout the night."
There were more about other cities in Europe as Ginny traveled along with her Aunt's instructions. It all seemed so crazy and interesting. I think the main appeal this book had for me was the fact that I would love love love to go on a tour like that. Except I'd have a camera. I love Maureen's writing. I have another book by her to read, Girl At Sea, which I hope will be every bit as entertaining as this one.